So you're looking to hire an analyst relations (AR) professional. The goal: increase awareness and knowledge-sharing between your company and a vital audience – industry analysts. 
Why is the information exchange important? Industry analysts influence buyers' decision-making, purchases and technology stacks. In fact, data shows that more than 9 in 10 B2B buyers (92%) say analyst reviews and reports impact their purchase decisions; of those, nearly half (48%) consider analyst reports "very important." Analysts also influence vendors' product roadmaps, reputation in the market and even revenues, and help define, articulate and shape industry trends.
Successful AR managers drive mutually beneficial relationships between their company and its target analysts, resulting in positive business outcomes. They ensure analysts understand:
What their company does, 

how their company does it, and

the value delivered.
Breaking Through the Noise
Industry analysts may have as many as 50 contacts per week with vendors' potential customers and partners – in your technology area alone. Call volumes for analysts have even increased during the pandemic.
While your executives, no doubt, have illuminating perspectives on corporate strategy and can establish great rapport with analysts, they don't have the bandwidth to service ongoing AR program requirements – regularly funneling the information analysts need (case studies, product information, strategic developments, sales successes, etc.) and fielding one-off questions.
So having a dedicated analyst relations function and resource(s) can be critical. An effective AR specialist will help keep your company and its value proposition top-of-mind among analysts: providing updates and briefings at an appropriate cadence, and serving as a responsive resource to the analyst community (among many other tasks – see below). AR professionals also convey analysts' information and advice (regarding market trends, messaging, competitors, etc.) back to company executives – driving a dialogue between the company's experts and the analysts they want to reach.
Qualities & Requirements for Success
A common, core skill set typically facilities this information exchange. That's why companies often seek AR candidates who:
Are excellent communicators (written and oral)

Excel at project management 

Can juggle multiple tasks simultaneously

Are frequent and skilled collaborators

Have strong presentation skills 

Are highly adept with presentation software tools
Qualifications often include:
Corporate communications or marketing background

Degree in a marketing or technology field

At least 3-5 years of experience with a technology vendor

Managerial experience (with direct reports, an agency, etc.)

Hands-on AR experience
Tasks & Responsibilities
What's in an AR professional's day-to-day? AR professionals assist corporate communications with the development and execution of effective analyst relations programs – aligning those programs with corporate strategies and goals.
And as the Institute of Influencer and Analyst Relations (IIAR>) notes: "Analyst relations professionals build valuable relationships, turning analysts and influencers into trusted strategic advisors, advocates and prescribers to benefit corporate strategy, influence the brand, shape the product roadmap, and impact the sales funnel."
While not an all-inclusive list, specific AR tasks typically include: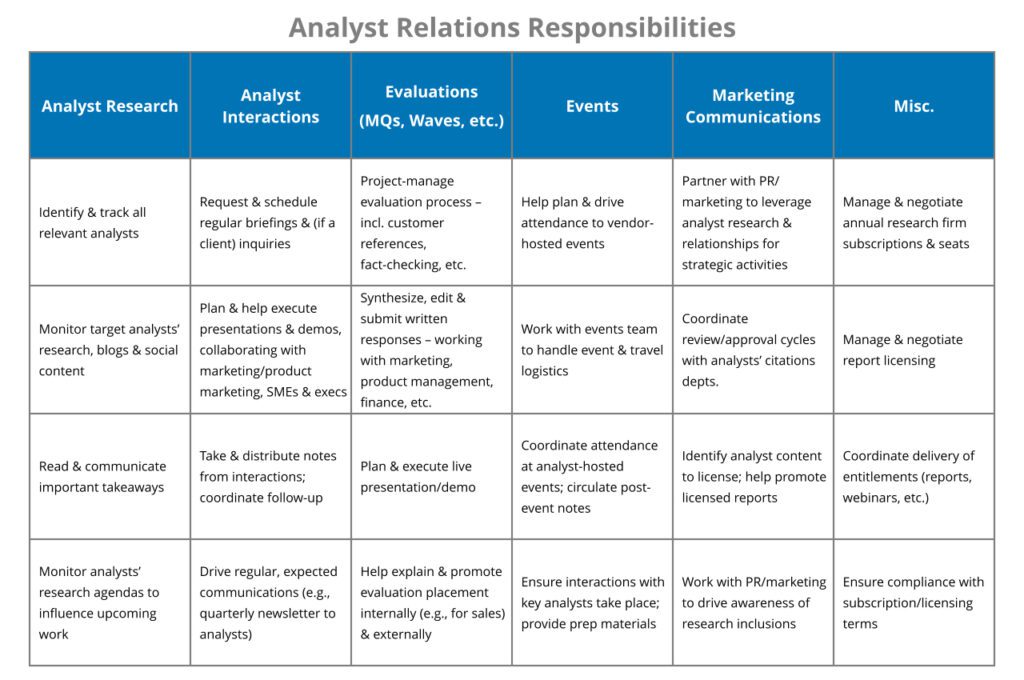 Using AR resources – such as best practices libraries, webinars and software solutions centered on driving AR results and efficiencies – can help your AR professionals manage their workloads and increase success.
Reporting Structure
Contrary to popular practice, the AR function is not just an add-on task for the public relations role. Especially in midsize and large IT vendors, a dedicated AR resource (or resources) – with the attributes and job description above – will drive significant value.
AR specialists may work for a director in corporate communications or directly for the marketing executive of a product group, with a dotted-line-reporting responsibility to corporate communications. 
Smaller vendors (below $100 million in annual revenues) will likely have one AR manager who works within the marketing or marketing communications groups.
Compensation Guidelines
An AR professional is typically a full-time, full-benefits position. While compensation varies based on experience, position, seniority, etc., Salary.com put the average salary of an AR manager at $95,000 (as of Feb. 2021). Other surveys and resources show that average salaries are even higher – reflecting more senior AR roles, global responsibilities at billion-dollar firms and low turnover in the field (recognizing that internal AR professionals have built up years of valuable knowledge and relationships).
It's worth noting that as the AR function matures within an organization, it will become more deeply embedded in other areas as well. For example, marketing groups will recognize AR as a valuable part of ongoing product marketing and new product launch activities. Given the influence that industry analysts have on end-users, marketing executives should find easy financial justification for the position. 
Bottom Line
Analyst relations professionals provide a key link between industry analysts and internal marketing or other corporate executives – increasing awareness and knowledge-sharing.

AR professionals should have managerial and relevant industry experience, as well as excellent communications and project management skills.

The role will justify itself financially, as AR specialists inform and influence key analysts, leading to increased visibility and highly qualified business opportunities.

AR professionals balance multiple relationships internally, and with industry analysts, and need to plan, track and report on their efforts. Relationship-building tools such as

ARchitect

can help.